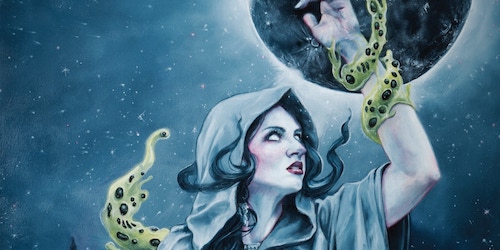 This August 17th through 20th I'll be making my biennial pilgrimage down to Providence, Rhode Island, to participate in the programming for NecronomiCon, the International Festival of Weird Fiction, Art and Academia, as I've done every year since its founding.
This year marks an exciting change at the conference. Whereas in previous years the panels and talks have been focused primarily on the works of H.P. Lovecraft and his influences and influencers, this year the committee has chosen to open the topics to those more encompassing of the Weird, the Fantastic, the Fabulist. In short, what was once a convention for one subculture now encompasses many, and much like the fiction it celebrates, the conference finds itself filled with artists and topics that fit neither wholly within the World Horror Convention, or the World Fantasy Convention. It sits between them (even temporally, considering the time of year).
All this is to say it promises to be an exciting adventure for all those who attend.
As I mentioned, I'll be there as part of the programming. The below outlines those events I'm committed to, but I'll also be lurking the hallways of the various locales and ducking into the multitude of interesting panels throughout the weekend.
Without further ado, my schedule for the upcoming event:
Friday August 18th – 3:00-4:15pm: Shadows and Tall Trees Launch Party
L'Apogee, Biltmore 17th Floor, with Robert Levy, Steve Rasnic Tem, and Michael Kelly, where I'll be reading a short excerpt from my story "In the Tall Grass".
Saturday, August 19th – 6:00-7:15pm: Looming Low Launch Party
L'Apogee, Biltmore 17th Floor, with Michael Griffen, Livia Llewellyn, Anya Martin, Michael Wehunt, Justin Steele, and Sam Cowan, where I won't be reading but instead hovering and showing my support as a contributor to the book.
Sunday, August 20th – 9-10:15am FABULISM IN CONTEMPORARY WEIRD FICTION
Garden Room, Biltmore 2nd Floor, with Craig Gidney, J.T. Glover, Kij Johnson, Nnedi Okorafor, and Peter Straub, where I'll be moderating a panel discussion on what Fabulism is and how it affects modern weird and strange horror fiction.
Sunday, August 20th – 3:00-4:15pm THE BLEAK OBLIQUE: Aickman's Influence on Contemporary Horror
Grand Ballroom, Biltmore 17th Floor, with Michael Cisco, Paul Di Filippo, Jack Haringa, and Steve Rasnic Tem, where I'll be moderating a panel discussion on the work and life of Robert Aickman, one of the major influences on contemporary strange fiction.
I hope everyone who attends finds these discussions and events illuminating, and enjoys the full range of fantastic programming. I look forward to seeing you all there.