Available now…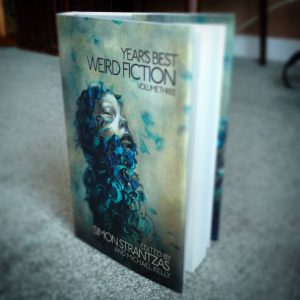 Showcasing the finest weird fiction from 2015, volume 3 of the Year's Best Weird Fiction is our biggest and most ambitious volume to date.
Acclaimed editors Simon Strantzas and Michael Kelly bring their keen editorial sensibilities to the third volume of the Year's Best Weird Fiction. The best weird stories of 2015 features work from Robert Aickman, Matthew M. Bartlett, Sadie Bruce, Nadia Bulkin, Ramsey Campbell, Brian Conn, Brian Evenson, L.S. Johnson, Rebecca Kuder, Tim Lebbon, Reggie Oliver, Lynda E. Rucker, Robert Shearman, Christopher Slatsky, D.P. Watt, Michael Wehunt, Marian Womack, Genevieve Valentine.
Available in ebook, trade paperback, and hardcover.