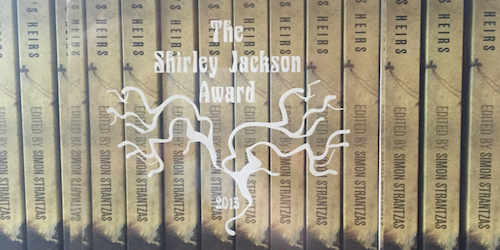 AICKMAN'S HEIRS, the anthology I edited for Undertow Publications, was the recipient of the Shirley Jackson Award for Best Edited Anthology yesterday (this announcement came minutes after it was announced that Lynda E. Rucker's "The Dying Season", from the same book, received the Jackson for Best Short Story). Needless to say, it was a huge honour. What follows is my hastily-prepared acceptance speech:
A famous director once said "directing is all about casting: if you pick the right cast, they do all the hard work for you". I feel the same way about editing. You pick a good bunch of writers, and then just sit back and wait for the gold to come in. So, this award is mostly for the writers, not for me. They were all extremely enthusiastic about the idea, and turned in better material than I could have hoped for.
Thanks to the judges for not only liking the book as a whole, but for liking both Lynda's and Nadia's stories.
Thanks to Michael Griffin, Joe Pulver, John Langan, and all the rest who convinced me that even though someone else was planning to get to my Aickman-Inspired anthology before me, I should still move ahead with it. John, especially, was on board early with suggestions of writers outside my typical circles. 
Thanks to Michael Kelly and Undertow Publications. Mike was as excited as I was about this book every step of the way, and without his perseverance it might have just been another idea that floated away from me. What Mike is doing with Undertow over the last few years has been phenomenal, and I'm extremely proud to have this book out through his press.
And lastly I want to thank Peter Straub, who unknowingly introduced me to Robert Aickman's work many moons ago in the pages of the anthology, Dark Voices. That was the second time he probably changed the course of my life.
You can watch the full awards ceremony here.
But that's not all! Later that day, it was announced that AICKMAN'S HEIRS is also a finalist for the prestigious World Fantasy Award, to be given out at the World Fantasy Convention at the end of October in Columbus, OH. It made for another great honour in a great day.
For those keeping track, the book has been doing extremely well with reviewers and critics. The stories in its pages are also finding second lives in some exciting places. Here's a list of some of the high-profile accolades that have come in so far:
Winner of the Shirley Jackson Award

Finalist for the British Fantasy Award
Finalist for the World Fantasy Award

'The Dying Season,' by 

Lynda E. Rucker

, winner of the Shirley Jackson Award

'Seven Minutes in Heaven,' by 

Nadia Bulkin

, Finalist for the Shirley Jackson Award

'Underground Economy,' by 

John Langan

, reprinted in both Best Horror of the Year and Best New Horror
'The Lake,' by Daniel Mills, reprinted in Best New Horror

'Seaside Town,' by 

Brian Evenson

, reprinted in Year's Best Weird Fiction
'Seven Minutes in Heaven,' by Nadia Bulkin, reprinted in Year's Best Dark Fantasy & Horror
'Camp,' by David Nickle, reprinted in Wilde Stories: The Year's Best Gay Speculative Fiction
I'm very excited about how the book and its stories have been received. It's still on sale from Undertow Publications directly, and from various online resellers. There is even a version for Kindle available at a discounted price. If you haven't read the book yet, I hope you get a chance to do so soon.